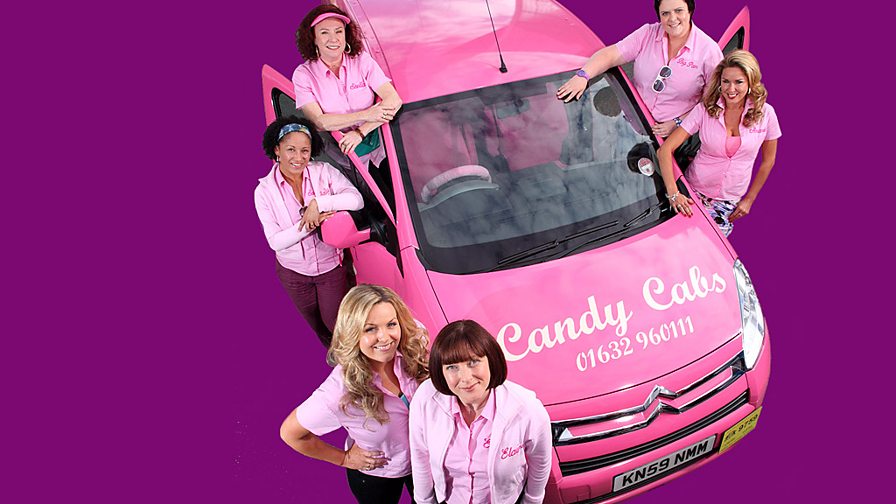 Candy Cabs is a new TV comedy from production company Splash Media and the first episode aired Tuesday April 5 on BBC 1.
The premise is the establishment of a new taxi business Candy Cabs, set in a fictional North of England town, South Hadley.  (Actually set in Lymm, Cheshire!)
The twist is that Candy Cabs is owned by Jackie and Elaine played by Jo Joyner and Lisa Millet respectively – and all of their staff and customers are female too.
Its basis reminded me of the 1963 film Carry on Cabby where Hattie Jacques played the head of an all female taxi company in opposition to an all male firm – with just the one significant difference that the owner of that firm (played by Sid James) was her husband!
Candy Cabs is directed by Minkie Spiro who has written for the BBC's Hustle and Channel 4's Skins which are two favourite shows of mine so I was looking forward to the first episode.
The opening scene saw the cremation of Sharon 'Shazza' Whitehead (whose idea Candy Cabs had been) being lowered into the flames to the rousing sound of the Tom Jones song Sex Bomb.  This risqué humour sets the tone for the rest of the show and the series – which will run to three episodes.
Her two remaining partners Jackie and Elaine now having to decide whether they wish to continue with Sharon's business dream or not.
This first episode struggled I felt between whether it wanted to be a drama with some humour thrown in or a comedy with some drama thrown in – for me at least the drama worked better than the comedy.
Jo Joyner (taking time Up North from Albert Square as Eastender Tanya Branning) managed well the blend of comedy and drama.
There were some solid performances too from British acting stalwarts John Henshaw (as the town's CEO of Business and Trade), Denis Lawson (as Kenny Ho the owner of the local rival taxi firm) and Melanie Hill (as Stella another Candy Cabbie).
Some of the more overt comedic performances I found less convincing including that of Elaine played by Lisa Millet – more though due to the comedy writing than her acting itself.
Another was Paul Kaye as absconding husband Dennis Whitehead whose performance I felt was detached from the action about him.
Threading through the narrative of this newly establishing taxi cab business are the difficult family and home lives of the main characters. This aspect of the show I did find convincing both in terms of the writing and acting.
There was a clever touching brief scene with the bereaved daughter Beth Whitehead played by Alexandra Roach shown on her living room couch clutching the telephone answer-machine and replaying the last ever message left by her mother Sharon.
At the end of the first episode we learn that Sharon's feckless husband Dennis was not actually divorced and thus has inherited her share of the business, which sets up episode two nicely.
I though am undecided whether I will be tuning in for this next episode to discover whether Jackie and Elaine buy him out and keep Candy Cabs an all female company.